Almacenes y Espacios Industriales, SL. (AEI) & TecniglobalRack, SL (TGR)
Almacenes y Espacios Industriales, SL. (AEI) & TecniglobalRack, SL (TGR) They are two engineering and construction companies specializing in the construction of logistic halls and their equipment, both mezzanine and racking systems for differents logistics solutions.
Our work proceeding could be summarized in the sum of three concepts:
"Knowledge, Quality & Commitment"
C + C + C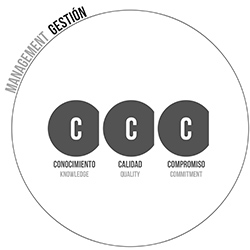 Conocimiento
Combining years of experience with continuous training, provides our team of professionals with the necessary preparation to carry out the work in such a way that:
Efficient in resource programming.
Effective in management.
For this, AEI & TGR has an interesting generational mix of engineering professionals, which provides a necessary mix of experience with new knowledge.

Calidad
The standardization of quality processes in products and services has provided companies with valuable tools for quality assurance. In both AEI and TGR, these tools are established with utmost rigor in our daily management, from design and calculation to assembly.
But perhaps what best defines our philosophy about quality is the old popular saying: "The price is forgotten, but good quality remains".

Compromiso
Commitment to us is to fulfill the work contracted within the stipulated time. The commitment is what transforms a promise into reality, it is also to fulfill what was promised what circumstances become adverse.
For both AEI and TGR, commit and keep the commitments are the essence of your proactivity.

AEI & TGR are committed to innovation and for this makes R&D a necessity of the company.
One of these initiatives was to create the company Tecniglobalrack S.L. dedicated to the design and improvement of new models in storage systems, for this it has its own testing laboratory and, above all, an experienced and internationally recognized staff.